Regular price
Sale price
$75.00 AUD
Unit price
per
Sale
Sold out
Introducing the newest addition to the Universkin range, a soothing, protective & balancing serum mist to help instantly relieve redness and itchiness and retain a healthy skin barrier. Universkin M offers immediate comfort to the skin and helps restore a youthful look.
BENEFITS:
It instantly reduces scratching, spaces out the urge to scratch, and relaxes the skin. The calming effect helps to boost the radiance of the skin.

For all skin types, face and body, especially for: sensitive, dry to very dry or atopy-prone skin or skin prone to itching. 

Suitable for face and body use, Universkin M is also your go-to solution for maintaining glowing, comfortable skin after sun exposure.
KEY INGREDIENTS:
P Complex; A Concentrated Complex of 4 Exclusive Biomimetric Peptides:Biomimetic peptides optimize skin cell function as synthetic fragments of natural peptides, acting as messengers between cells.

P-complex is a unique blend of tripeptide-1, trifluoroacetyl tripeptide-2, acetyl hexapeptide-1, and acetyl tetrapeptide-2, offering complementary benefits. Paired with camelina oil in our patented composition, it promotes skin renewal and rejuvenation

Zanthoxylum Bungeanum Fruit Extract: 

Ultra-pure Sichuan pepper fruit extract obtained using advanced Supercritical CO2 technology. It soothes and reduces itchiness instantly, providing relief to itchy skin and acting as a topical lifting agent for wrinkles.

Complex U: This blend of polysaccharide with pre- and probiotics rebalances and maintains healthy skin microbiota. The polysaccharide acts as a shield, inhibiting the adhesion of undesirable bacteria. The pre- and probiotics stimulate beneficial bacteria while suppressing harmful bacteria, restoring healthy skin microflora to strengthen the skin barrier and protect against infections. 
How to use: AM + PM. Apply the mist after cleansing the skin. Can be used throughout the day as often as necessary to soothe the skin.

Share
View full details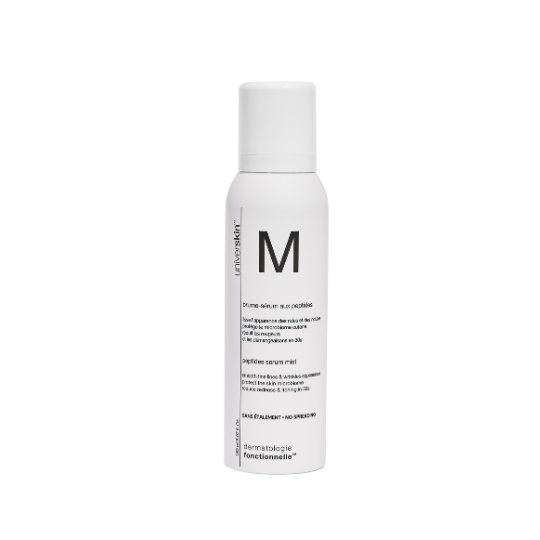 Can't find a product you're looking for? Contact us to see how we can help!